Pre-owned Toyota RAV4 for Sale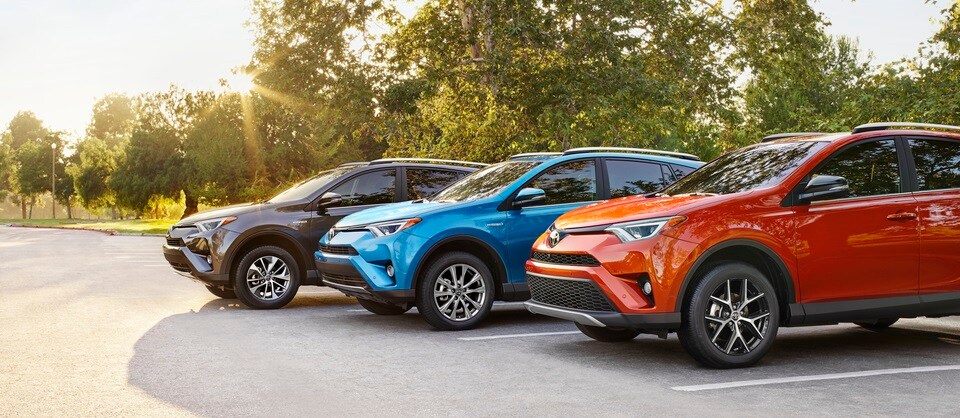 Pre-Owned Toyota RAV4 for Sale in Ontario
As one of the most versatile and efficient SUVs on the market, the Toyota RAV4 is very popular among drivers who need a model that can do it all. With a refined powertrain under the hood, an attractive design, and a practical, welcoming interior, the RAV4 checks off all the boxes, and whether you're based in Kingston, Carleton Place, Cornwall, Napanee, or Ottawa, Ontario, you can find a compelling pre-owned model of this Toyota SUV with Carloft. Find out what a late-model Toyota RAV4 has to offer below, and contact us at Carloft at your convenience for further details.
Toyota RAV4 Design
With chiseled bodywork, a truckish silhouette, and a stylish front end, the Toyota RAV4 is a real head-turner. Indeed, this Toyota SUV's rugged design is easy on the eyes and suits its durability and reliable performance, and you'll find plenty of attractive wheel designs and vibrant body colours among our pre-owned RAV4 models. This beloved Toyota SUV's interior is just as compelling, as it boasts supportive fabric seats, an attractive and practical dash design, and plenty of room for both your cargo and passengers, so you can hit the road with friends and family with peace of mind. If you're looking for an SUV with a comfortable cabin and the versatility to tackle errand runs and family trips, a late-model Toyota RAV4 has what you need.
Toyota RAV4 Performance
Late-model RAV4 vehicles pack plenty of pep in a 2.5L four-cylinder engine with up to 203 horsepower. This Toyota SUV channels its generous power through a smooth-shifting eight-speed automatic that enhances its fuel efficiency, so you won't have to hit the pumps too often. Speaking of which, recent RAV4 models rank among the thriftiest in their segment, with some of our models netting as low as 8.7 L/100km in the city and under 7 on the highway. You'll also find several RAV4 models with all-wheel drive among our fleet, so you can take the wheel with all-weather capability. In addition to its robust powertrain, excellent fuel efficiency, and surefooted ride, this popular SUV boasts the kind of durability Toyota is known for, allowing you to enjoy your pre-owned RAV4 with a clear head for the long haul.
Finance Your Pre-Owned Toyota RAV4 with Carloft
At Carloft, we make financing your ideal model easy, no matter which of our dealerships you visit in Kingston, Cornwall, Napanee, Carleton Place, or Ottawa. Whether you choose to shop online or in person, you can take advantage of our flexible financing options and excellent rates, and you can get approved for financing before visiting us, thanks to our user-friendly 30-second credit application. However you choose to proceed with your purchase, we'll help you get to the wheel of your RAV4 with complete peace of mind. Contact us at Carloft today to get started.